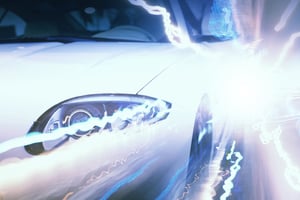 According to a recent market intelligence report from BIS Research, the automotive intelligent lighting market was valued at $9.40 billion in 2017 and is expected to reach $15.08 billion by 2023, growing at a CAGR of 8.44% during the forecast period from 2018 to 2023.
The growth of the automotive lighting industry is directly proportional to the growth of the automobile market. Thus, the factors influencing this industry are expected to give direction to the automotive intelligent lighting market. Some of these factors include
These factors are likely to impact not only the vehicle market but also the growth of the automotive intelligent lighting.
Advancements in the Automotive Lighting Industry
At present, the automotive industry is at the apex of technological development with respect to implementation of safety standards in vehicles on public roads. This has fueled rapid advancements in the development of intelligent lighting systems. Over the years, the automotive lighting industry has witnessed market shifts from gas discharge lamps, to incandescent light sources, to light emitting diodes (LED), to laser technology and organic light emitting diodes (OLEDs).
Moreover, this paradigm shift from conventional (i.e. fluorescent and incandescent) to contemporary (i.e. LED to laser) has enabled the industry to reduce atmospheric CO2 emissions, which in turn is an important factor for driving the global lighting market. Furthermore, though the initial cost of LED purchase and installation is higher, the operational cost is much lower and they offer long-term cost and energy savings over conventional lights.
Intelligent lighting also supports advanced driver assistance systems (ADAS), which ensure safer driving with the help of such smart technologies as adaptive front lighting (responsible for improving visibility and optimizing the driver's sight lines during poor conditions and nighttime driving) and intelligent ambient lighting systems.
Key Factors Driving the Global Automotive Intelligent Lighting Market
At present, positive factors driving growth in the automotive intelligent lighting market include increasing demand for luxury vehicles, increasing sales & production of these vehicles, greater emphasis on road safety, and increasing demand for comfort and luxury vehicle customization options.
Other factors expected to further spur the market include rising demand for adaptive headlights for two-wheelers, as well as opportunities to tap into emerging economies or developing countries that can further expand the geographic scope of the market.
Primary Market Segments
BIS Research's global automotive intelligent lighting market report is segmented by technology, type of light, vehicle type, end user, and region.  
Key Automotive Intelligent Lighting Companies
The report profiles several companies that have a strong foothold in the automotive intelligent lighting market. Key players in the market include Valeo Group (Japan), Magneti Marelli S.p.A (Italy), Zizala Lichtsysteme GmbH (Austria), KOITO Manufacturing Co Ltd (Japan), SL Corporation (South Korea), and Hella KGaA Hueck & Co. (Germany). Other important companies are listed below.
The Global Automotive Intelligent Lighting Market Research Report
For more information, be sure to download the full report from BIS Research. This comprehensive report delivers critical market insights, drawing on research from extensive primary interviews and secondary research, along with analytical tools that have been used to build forecasts and predictive models.
Click the button below to view the full report page.
About the Publisher: BIS Research is a global market research company that provides comprehensive reports covering 12 technology verticals. Its team includes industry veterans, experts, and analysts with diverse backgrounds in consulting, investment banking, government, and academia.
Source
https://blog.marketresearch.com/the-automotive-intelligent-lighting-market-an-overview